---
A brief profile of Shizuoka
Shizuoka Prefecture is blessed with an abundance of natural beauty, including mountains, rivers, hot springs, and lakes. Although there are four distinct seasons, overall the weather is temperate, expect in the northern mountains area.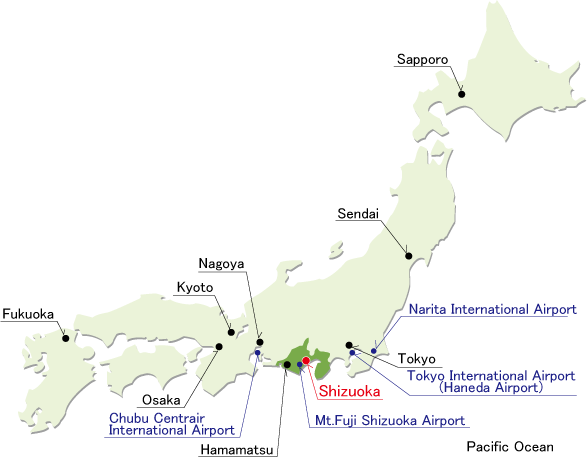 SHIZUOKA GUIDE
(Jump to Shizuoka Prefectural Tourism Association Website.)
Located on routes connecting the eastern and western parts of Japan (including the Tokaido Shinkansen and the Tomei Expressway), Shizuoka plays an important role in Japan's nationwide transport network.
About Mt.Fuji Shizuoka Airport
Mt. Fuji Shizuoka Airport opened on June 4, 2009. As Shizuoka's international gateway, it provides domestic and international air connections, linking major cities both across Japan and Asia.
Mt.Fuji Shizuoka Airport
(Jump to Mt.Fuji Shizuoka Airport official Website.)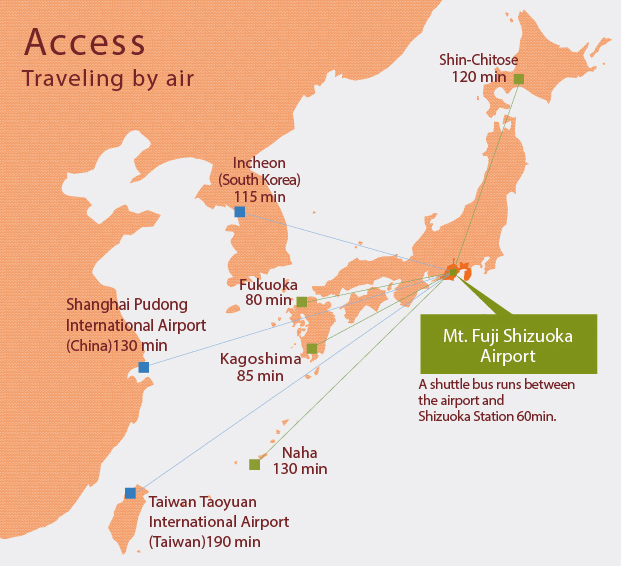 main airports for Mt. Fuji Shizuoka Airport
more airports for Mt. Fuji Shizuoka Airport.
Sapporo Okadama (Japan) 110 min, Wuhan (China) 315 min, Ningbo (China) 160 min, Hangzhou (China) 150 min
From Major Airports to Shizuoka Station
Narita International Airport
via Shinagawa Station (Tokyo)
150 min
Tokyo International Airport
(Haneda Airport)
via Shinagawa Station (Tokyo)
150 min
Chubu Centrair International Airport
via Nagoya Station
120 min
From Major Cities to Shizuoka Station
Tokyo (from Tokyo Station)
JR Tokaido Shinkansen
Hikari:60 min
Kodama:90 min
Nagoya (from Nagoya Station)
JR Tokaido Shinkansen
Hikari:60 min
Kodama:80 min
Osaka (from Shin-Osaka Station)
JR Tokaido Shinkansen
Hikari:120 min
Kodama:150 min