About the Graduate School of International Relations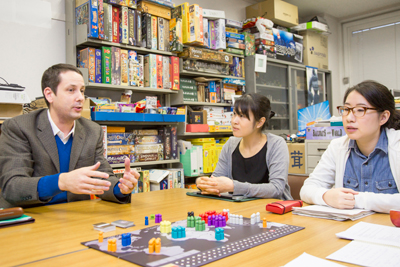 Globalization may appear to be homogenizing our ways of life, but it is in fact diversifying and complicating them, due to various counter-globalization trends such as traditionalism, nationalism, localism, ethnicity, and religious extremism taking place in contemporary international contexts. For this reason, both global and international studies and local cultural or area studies are equally needed and inseparable from each other to resolve a wide range of complicated issues today. To foster highly trained specialists and active practitioners fully equipped with global as well as local knowledge of the international and multicultural arenas, the Graduate School of International Relations fosters students with the ability to apply a relevant combination of multidisciplinary approaches and comparative methods. The School also strongly encourages students to conduct fieldwork to approach the lived experience and realities of the people concerned through the full use of the researcher's own senses. The graduate programs are supported by three research centers attached to the School: the Center for Korean Studies, the Wider Europe Research Center, and the Center for Global Studies.
Division of International Relations
International Politics and Development
Our program provides a wide curriculum centered on interrelated disciplines of social science, such as International Politics, International Economics, International Management and International Law in order to address the growing societal need for the comprehensive study in the field of international politics and sustainable development. Expert supervision is also available during the writing of a master thesis from the perspective of area studies on East Asia, the Middle East, the United States and Europe.
Socio-Cultural Studies of Global Issues
We emphasize a global studies approach, utilizing sociology, anthropology, and social psychology to empirically assess critical global issues involving poverty, the environment, immigration, ethnicity, and gender in combination with a communication-based approach to promoting multicultural communication and solving problems in a ubiquitous society.
Division of Comparative Culture
Japanese Culture
Our program promotes research and education on the basic fields of comparative culture such as Japanese language, literature and thought. More specifically, it includes studies on Japanese education, analysis of classical as well as contemporary Japanese, research on literature and thought of both classical and modern times. For those who are interested in teaching, we also offer a program for advanced teacher's license for Japanese.
Asian Culture
Our program aims to holistically assess and research Asian countries and regions (China, the Korean Peninsula, Southeast Asia, South Asia, and Russia), utilizing various approaches such as International Relations, political science, economics, sociology, cultural anthropology, history, philosophy, and religious studies.
British and American Culture
We promote contemporary and historically oriented comparative research into a wide range of British and American fields, including new linguistic theory, history, literature, sociology, and the study of communication. We offer a formal program for those who are interested in advanced teacher's license to teach English.
European Culture
We provide students with a big-picture for comparative studies of Europe's regional literature, culture, history, philosophy, and society of Germany, France, and Spain. Our program also encourages the reexamination of culture from an expanded viewpoint, encompassing human sciences and exploring the continuation and changes in European society.
---